Ocular Surface Center Berlin
... please see below for more information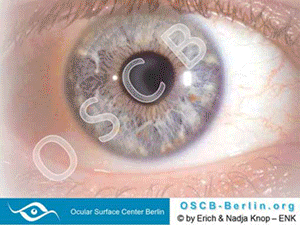 Welcome
to the Free, Non-Profit, Educational OSCB Information-Portal on the Ocular Surface, Contact Lenses and Dry Eye Disease
For easier overview of the content on a SMARTPHONE the Browser Setting for ´Desktop View´ may be preferable
The INSTITUTION
... that makes it all possible
Welcome to the Ocular Surface Center Berlin (OSCB) !
The OSCB is a non-profit Science Institute for the advancement of knowledge* on the ocular surface. This concerns the normal structure and function, the interaction with contact lenses, as well as the alterations that lead to the onset and potential progression of ocular surface disease, such as e.g. Dry Eye Disease, Meibomian Gland Dysfunction (MGD), Blepharitis, Ocular Allergy.
SCIENTIFIC INFORMATION PLATFORM
for the OCULAR SURFACE, CONTACT LENSES and
DRY EYE DISEASE
* Disclaimer: Even though this site is based on scientific results and experience in a medical field and information is carefully checked - the information here is not for medial advice, cannot replace the visit at a clinical practice and cannot be used for prescriptions or therapy.
ANY USE or REPRODUCTION OF CONTENT OF THE OSCB WEBSITE is NOT ALLOWED -except as specified for =>Teaching
CONTENT
On these pages of the Ocular Surface Center Berlin (OSCB) you will find relevant research based information on many aspects of the Ocular Surface.
All aspects are covered over the full range.
From the Anatomical Structure over the Physiological Function and Regulation to Dysfunction, Disease & Clinics including Therapy Options *.
* => see Disclaimer
RATIONALE
The enormous amount of new data in research and clinics on Ocular Surface and Dry Eye Disease, appears to make the understanding more and more multifaceted and complicated.
Therefore we have thought about a new vision of the Ocular Surface and of Dry Eye Disease.
A completely new way to SEE and VIEW the Ocular Surface.
APPROACH
All information is joined by original artwork in a DYNAMIC pictographic self-explanatory style.
When the content of STATIC images becomes to complex ... they are transformed into ANIMATED Images.
Static slides are mixed with ANIMATIONS that make everything intuitively understandable.
This is a HOLISTIC way that allows to see the full picture at first glance, like a landscape from above.
OUTLINE
The content is divided into SECTIONS. Within each section the information is presented in three FORMATS with increasing depth of information:
GLIMPSE - gives a short impression of a topic. Suitable for patients & interested lay-Wo-men
OVERVIEW - covers the topic in more detail
DEEPER INSIGHT - covers more specific aspects in depth
The MAINTENANCE SYSTEMS
... of Science and Communication
Partner Institutions - Universities - Colleges - Schools
Ophthalmological News Journals
Ophthalmological News WebSites